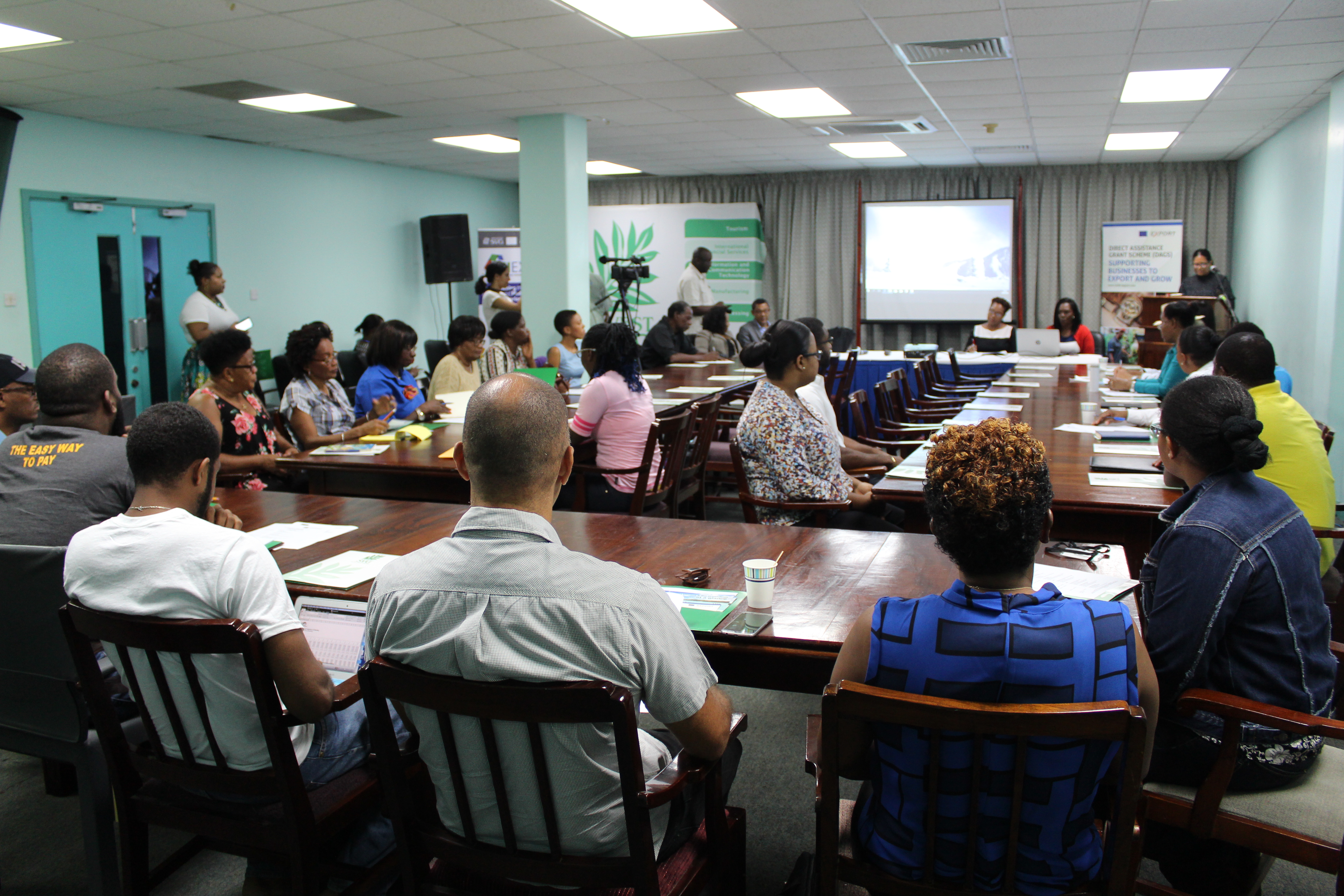 The call for proposals has begun on Caribbean Export Development Agency's (CEDA) Direct Assistance Grant Scheme (DAGS) – which is a reimbursement grant funding opportunity specifically targeted at businesses and Business Support Organizations with high export potential.
Last Friday, April 20, CEDA, Invest SVG and the Ministry of Foreign Affairs, Trade and Commerce hosted a one-day sensitization workshop that went in depth into how DAGS works, how to apply, and the process of recouping monies spent on business projects.
Funded by the European Union under the 11th EDF Regional Private Sector Development Programme, the grant allows beneficiaries to be reimbursed a maximum of 70 per cent of the total value of the project (capped at 50,000 euro). The minimum grant amount that can be applied for is 10,000 euro.
Chris McNair, CEDA's Manager of Competitiveness and Export Promotion led the intensive workshop, and also explained that country advisors had been trained to provide support and give advice to applicants and grant recipients in the various participating islands (CARICOM member states and the Dominican Republic).
Giving remarks at the event was Director of Trade Okolo Patrick, who noted that DAGS presents important prospects for small to medium sized enterprises in St Vincent and the Grenadines, and to "receive the necessary funding to support their growth and development".
"The Direct Assistance Grant Scheme provides a platform that supports Caribbean businesses to become more innovative and compete internationally," added Patrick.
"We recognise that the access to finance is a critical pillar to enable businesses to expand and create new jobs and generate foreign exchange earnings. So we appreciate this important assistance to the private sector."
Invest SVG Deputy Executive Director Nadine Agard-Juillerat expressed her excitement at this opportunity because there are so many local businesses that have the potential to benefit from DAGS.
"While we have a low GDP, we still have a very high potential for growth – I've seen this myself. From attending the Expo last year, a lot of the products that Vincentian hands and Vincentian initiatives are being put into, they blew my mind!"
Requirements for applying for the grant include: be legally registered and operating in a CARIFORUM member state; be trading for at least two years, which must be supported by financial statements; be able to finance and sustain projects fully at the beginning/ prior to project initiation; and be exporting or demonstrate potential to export services and goods.
For more information and to apply for DAGS, go to https://www.carib-export.com/export-development/the-direct-assistance-grant-scheme-dags/. Deadline for application is June 4, 2018, at 4:30 pm.