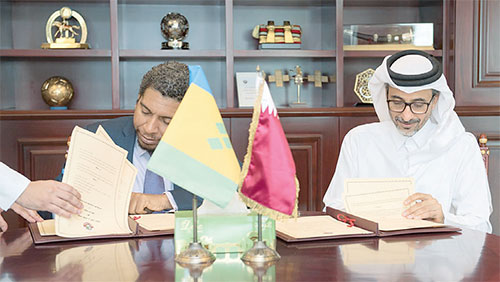 Qatar's Minister of Culture and Sports HE Salah bin Ghanem al Ali and Saint Vincent and the Grenadines' Minister of Economic Development Camillo Gonsalves have signed a cooperation agreement to promote cultural exchange between the two countries.
The Minister of Culture pointed out the importance of promoting and developing cultural relations between the two countries and increasing the volume of cultural exchanges, not only in the arts but also in translation and literature.
He stressed the need to encourage intellectuals and writers in both countries to play a greater role in successful strategic partnerships that will push the relations forward.
The visiting Minister expressed his pleasure over the signing of the agreement and thanked the Ministry of Culture and Sports for its cooperation in developing relations between the two countries.
[original source: Qatar Tribune, Nov. 22, 2017]