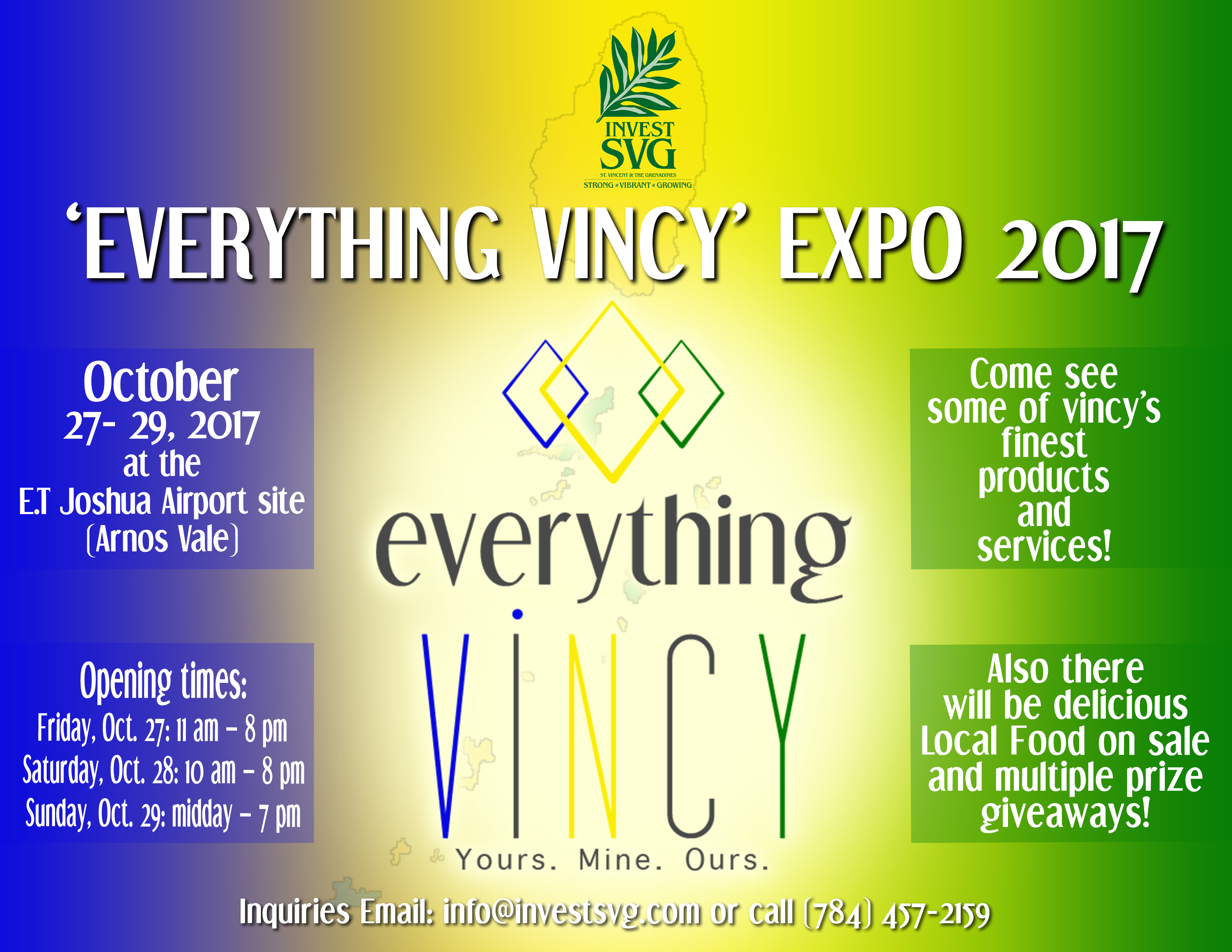 Some of St. Vincent and the Grenadines' most talented entrepreneurs will be showcasing their products and services at Invest SVG's inaugural 'Everything Vincy' Expo 2017 this Independence weekend.
The Expo will run from Friday, October 27 until Sunday, October 29, 2017 at the E.T Joshua Airport site in Arnos Vale; and is designed to increase the visibility of local businesses as part of an overarching 'Buy Local' campaign.
This initiative fits perfectly in line with one of the investment agency's mandates of assisting in the advancement of export development in St. Vincent and the Grenadines. Invest SVG believes that small business development is essential for the overall economic growth of the multi-island State.
Exhibitors taking part in this Expo are: Richmond Vale Academy, Little Nut Farm, Great Head Farms, Eastern Caribbean Group of Companies, Grow In Time, SVG Network of Rural Women Producers, Camcakes Catering, VINC, Chillin' (restaurant), Rene's Ornamentions, Cherry's Plus, Escape Health and Day Spa, Nzimbu Arts and Crafts, Immense Bags, Olive Art Designs, Tubb's Arts and Crafts, Brio Che, Pringa's Natural Flavour, Abb & Ann's Creations, Melissa Kreations, LinkUp, L.A Unique Upholstery, Brand SVG, Aurora's, Gibson's, Cyrus Snacks, Penelope's Wines, Sardo SCS, The Classic Cake Gallery, Me-Shelli Unique, Una's Legacy, Alpha Design, Frisko, UD's Enterprise, East Caribbean Metals, Jazzy All Natural, Fanfare, and Kendra's Aluminium Products.
Exhibitors will also be taking part in workshop training sessions on October 24 and 25 at the Ministry of Foreign Affairs Conference Room, third floor of the Administrative Building. These workshops are free for exhibitors; however, non-exhibitors can also take part for a EC$50 per-day administrative fee.
Further inquiries (including workshop time schedule) can be made by emailing info@investsvg.com or calling (784) 457-2159.
The 'Everything Vincy' Expo 2017 is a component of the 'Everything Vincy' Independence Festival (running from October 21 – 29) that aims to highlight culture, food, enterprise, music and motor-sport.